Authorities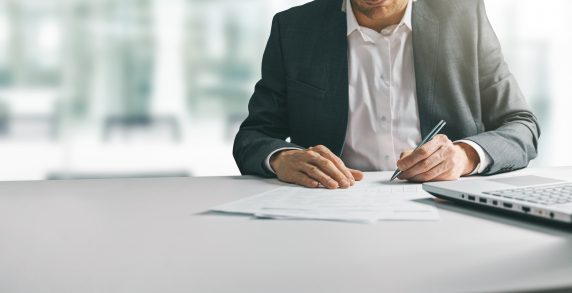 Management Board
Bartłomiej Antczak
President of the Management Board
Bartłomiej Antczak is responsible for managing the Betacom Group, preparing and implementing its
operational strategy and developing its portfolio in international markets and new business lines,
especially Education and Smart Workplace.
He directly supervises projects related to implementing
the EduWareBox.com educational platform and implementing R&D projects such as VRNeck and
Bloom.
Bartłomiej has worked for Betacom for more than 3 years. Before that, he gained experience in the
leading Polish companies implementing IT solutions. As part of implemented projects, he was
responsible for selling advanced IT solutions (BPM, SOA, ECM, BI) and developing relations with key
clients from the educational, communications, financial and healthcare sectors. Building on his
experience in implementing systems which support managing business processes at corporations and
public institutions, he develops the knowledge and skills in providing effective solutions in the area of
intelligent systems (machine learning).
Bartłomiej Antczak graduated from the School of Engineering of Columbia University in the City of
New York.
Magda Pleskacz
Member of the Management Board
As Financial Director, Magda Pleskacz is responsible for the finances of the Betacom Group and
particular business lines. She manages the controlling team and budget planning and implementation
of particular lines of business. She also supervises key investment projects at the Group.
Magda has worked at Betacom for 4 years. Before that, in 2007–2016, she was Member of the
Management Board of Learning Systems Poland S.A., where she was responsible for the
development strategy of a group of language schools, finances, due diligence and IT systems
development. In 2000–2006, she worked as Financial Controller at EMPIK Sp. z o.o., where she was
responsible for monitoring and financial control of the Group's companies, the budget process,
profitability analysis, cost optimization and audits.
Magda Pleskacz graduated from the Faculty of Management of the University of Warsaw. She also
has wide expertise in managing and developing companies on international markets.
Robert Fręchowicz
Member of the Management Board
Robert Fręchowicz is the founder of Betacom. He is responsible for managing the sales department.
He coordinates and supervises development and sales works as part of Hybrid IT and Logistics
business lines, and is also responsible for cooperating with the Group's largest business partners.
Robert has many years of experience in IT. Before founding Betacom, he worked at Bank Handlowy w
Warszawie S. A. and was President of the computer company Datex s.c.
Robert graduated from the Faculty of Electronics of the Warsaw University of Technology. He has
completed many courses, e.g. for investment consultants.
Supervisory Board
Zbigniew Wierzbicki
Chairman of the Supervisory Board
Zbigniew Wierzbicki has 25 years of management experience in the financial sector, including as
Advisor to the President of the National Bank of Poland, president and vice-president of banks'
management boards as well as director at commercial banks.
He also has many years of experience in IT, gained at banks and other institutions, where he
supervised the operations of IT departments and was responsible for IT projects in the financial
sector.
Zbigniew graduated from Warsaw School of Economics, where he also received his PhD in
Economics. He has completed numerous training courses, including Bank Management at
Northwestern University Kellogg College (Chicago-Evanston) USA and Integrated Risk Management in
London.
Michał Kołosowski
Member of the Supervisory Board
Since 2007 Michał Kołosowski has been partner in the audit department of the UHY ECA Group. He
has wide experience in auditing financial statements and preparing consolidation packages and due
diligence, as well as bringing financial statements in line with IAS/IFRS and US GAAP standards. He
specializes in supporting real estate companies and closed-end investment funds. He is also author of
numerous articles and a lecturer in the field of accounting.
In 2000–2004, he worked at the audit company Roedl&Partner, and in 2004–2007 at
PricewaterhouseCoopers.
Michał completed studies in Economics, specializing in Finance and Accounting. He also holds the
Diploma in International Financial Reporting issued by the Association of Chartered Certified
Accountants (an international organization bringing together experts in the area of finance,
accounting and management).
Dariusz Bożeński
Member of the Supervisory Board
Dariusz Bożeński has all-round experience in the area of finance, IT and administration at companies
with Polish and foreign capital, which he successfully uses in strategic and complex professional
projects.
He has gained his professional experience in companies such as ABB Zamech, Grupa Mostostal
Gdańsk and Grupa Sanoma. He has also sat on supervisory boards of Polish and foreign high-tech
companies (including Tomorrow Sp. z o.o. and Cyberbook).
Dariusz has a degree in Information Technology and Econometrics awarded by the University of
Gdańsk. He has also completed a post-graduate course in Investments at Warsaw School of
Economics and a PhD at that university.
Marcin Marczuk
Member of the Supervisory Board
Marcin Marczuk is Managing Partner at Królikowski Marczuk Dyl Adwokaci i Radcowie Prawni sp.p.
law firm, where he is responsible for transactions on capital markets. He has many years of
experience at financial market supervision institutions and law firms.
Marcin Marczuk has sat on supervisory boards of many public companies, such as Opera TFI S.A.,
Gadu-Gadu S.A. (currently GG Network SA), DDPP Securities S.A., Polski Holding Nieruchomości SA,
Protektor SA, Mebelplast SA, Zortrax SA, Berling S.A., PFR S.A., Wikana SA, Benefit Systems SA and
Koncept-L SA.
He is also commentator of events on the capital market and has co-authored commentaries: Capital
Market Laws (2014, 2016), commentary to the Bonds Act (2015) or commentary to the Market Abuse
Regulation (2016) (Wyd. C.H. BECK).
He graduated from the Faculty of Law and Administration of the UMCS University in Lublin and has
been attorney-at-law and member of the Warsaw Bar Association since 2005.
Jakub Baran
Member of the Supervisory Board
President of the Management Board and one of the founders of the Polish Stem Cells Bank (Polski
Bank Komórek Macierzystych S.A.). Member of supervisory boards of both Polish and foreign
companies.
He gained his professional experience among others at Hewlett-Packard Polska, IBM Polska and as
Executive Director and COO at the Polish Stem Cells Bank (Polski Bank Komórek Macierzystych S.A.).
During his work in IT, he significantly strengthened the position of companies such as HP and IBM
with clients from the telco industry.
At the Polish Stem Cells Bank, he gained wide experience in organizing funds for company
development, including through private equity and the company's IPO and later SPO at the Warsaw
Stock Exchange.
He graduated from Wrocław University of Technology, where he obtained the title of Master of
Sciences and Electronics Engineer in 1995.