IBM – the most innovative AI project of 2018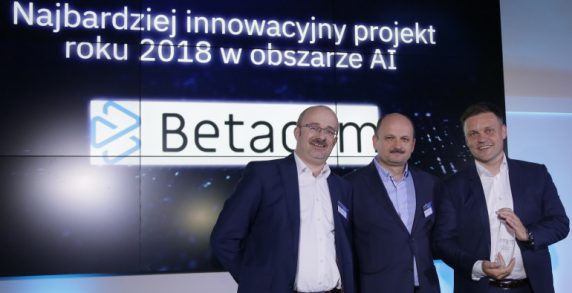 During this year's IBM Partner Ecosystem Summit ceremony (held in Warsaw on June 6, 2019), Bartłomiej Antczak, Betacom's CEO, received the statuette for the most innovative AI project of 2018.
When handing over the award, Jarosław Szymczuk, General Manager at IBM Poland and Baltics, emphasized the social value of our project: "For making artificial intelligence serve the humanity, which means helping autistic children together with IBM Watson."
As highlighted by Betacom's CEO, the award is the outcome of the company's strategy which includes AI-driven solutions as a key component.
In November 2018, we had an opportunity to present Bloom Chat Diagnosis in Barcelona, during the European finals of IBM Watson Build Dragon's Den (for more information: News).
Share