VIA TMS and Eduwarebox.com at the 2018 Microsoft Inspire conference in Las Vegas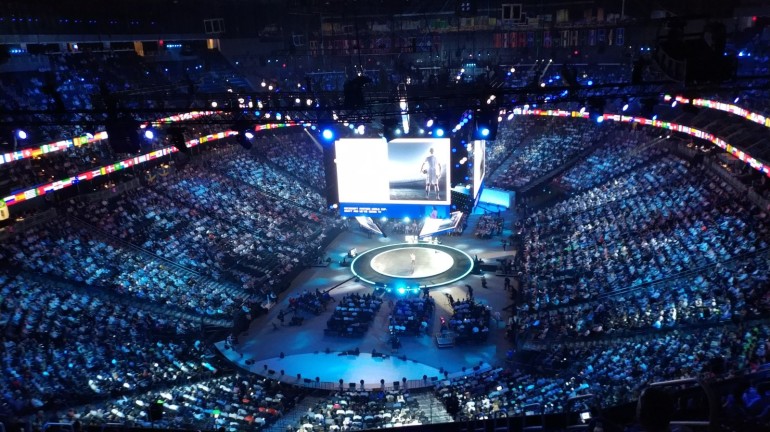 The most innovative and trusted Oracle business partners were awarded at the Oracle OpenWorld 2017 conference held in San Francisco. We are pleased to inform that our company was among the winners at that prestigious event.
We received the Oracle Cloud Platform Innovation award for the implementation of Oracle Management Cloud in one of the largest Polish energy companies. This enabled a nearly 10-time increase in the speed of analyzing the customer's extremely large databases. The nominees included 354 Oracle business partners and customers from 53 countries around the world, with the largest group (42%) being based in North America. Apart from us, the prestigious group of winners included organizations such as NTT Communication, a
July is traditionally when Microsoft invites its partners to attend the Microsoft Inspire conference. As a proven partner of the year, Betacom takes part in this event.
This is a part of our strategy which assumes that IT solutions should be presented in international markets and that a network of contacts should be built to result in future contracts and business development.
This year's conference was attended by over 10,000 guests from all around the world. For them, it was an opportunity to listen to speeches delivered by heads of Microsoft's key business areas. The Microsoft's CEO, Satya Nadella, also delivered a presentation.
The MS Inspire 2018 program did also include thematic sessions. As they lasted from over ten minutes to an hour, they could be even called coaching sessions. This year's several dozen sessions were planned so as to tackle sales topics, bonus programs and purely technological issues. As a separate block, there were sessions dedicated to the development of managerial competencies such as sales psychology, team management and motivation.
The MS Inspire 2018 formula also enabled the participants to exhibit and present their own solutions.
Betacom obviously seized that opportunity. The presentation of our two flagship products, VIA TMS and Eduwarebox.com, enjoyed recognition from the attendees and allowed us to collect contact data. Hence, we can hope for future implementations. Once again, the five days spent at MS Inspire 2018 provided us with valuable experience. This is also true for networking, as we had an opportunity to meet the representatives of Polish, Central European and global structures of Microsoft.
We look forward to the next edition of Microsoft Inspire.
Marcin Góski presents VIA TMS, our flagship solution for the transport and logistics industry.
Robert Fręchowicz and Tomasz Głażewski present eduwarebox.com (www.eduwarebox.com).
ord University. The award was received personally by Bartłomiej Antczak, CEO at Betacom S.A., on October 2, 2017.
Share