Betacom becomes a UiPath Services Network partner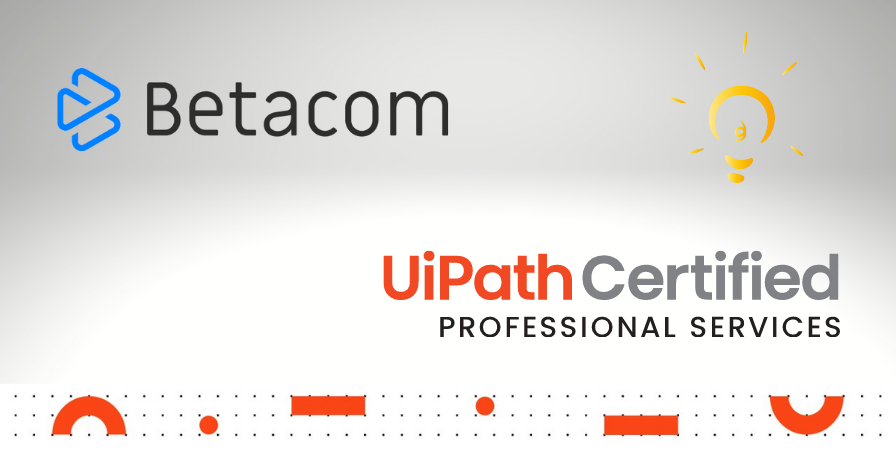 Just a few months after becoming a UiPath partner, Betacom joins the ranks of certified UiPath Services Network (USN) partners. It is a unique group of UiPath partner companies that have undergone a rigorous certification process in which they had to demonstrate high technical and business competencies, as evidenced by actual successful projects completed for end customers. So far, only two companies in Poland can boast the status of USN-certified partners. As of today, Betacom is one of them.
"We are extremely honored and proud to become a UiPath Services Network partner in such a short time. This means that we are among a relatively small number of companies in the world that are able to provide clients with strategic support in transforming their business and maximizing the business value from investing in the RPA UiPath platform. Achieving this required significant investment, a lot of work, and – most importantly – demonstrating success in delivering projects for our clients. This would not have been possible without their trust in us. That is why I would like to thank them very much, because just as we have contributed to their success, they have contributed to ours" – said Tomasz Głażewski, Hybrid IT Leader at Betacom S.A.
UiPath is a leading company in the rapidly developing global intelligent process automation and robotics market. In the latest 2021 Gartner Magic Quadrant for Robotic Process Automation report, analysts ranked UiPath in the Leaders segment for the third consecutive year – which is the highest among all the vendors evaluated for this type of solutions.
"Partners play an extremely important role in the RPA market. More than 90% of end customers in Poland rely on them when starting their journey with robotization. USN partners provide the best guarantees of technical and business excellence in project delivery. We are pleased that Betacom has joined this elite group of partners. We were delighted to see the commitment, rapid development of competence and growing number of successful projects. End-customer feedback confirms Betacom's highest competence in RPA" – said Leszek Wilczak, Channel Alliance Manager at UiPath.
A Gartner study released last year found that by the end of 2022, 90 percent of large organizations worldwide will be using some form of RPA.
Since the outbreak of the pandemic, in a time of remote work and constantly changing rules of operation of entire markets – and thus increasing uncertainty – the benefits of intelligent automation and RPA solutions have become even more important.
UiPath offers a comprehensive automation platform, combining a market-leading Robotic Process Automation (RPA) solution with a full suite of capabilities that enable any organization to rapidly scale digital business operations. In line with the Fully Automated Enterprise™ vision, UiPath wishes to deliver solutions that enable organizations to transform and achieve their maximum potential.
Customers who have been embarking on the path of robotics and automation can now rest assured that by choosing Betacom as a partner in this journey, they will be guaranteed the highest level of support.
Share