Betacom wins the 2019 Fortinet award for the most interesting cloud project!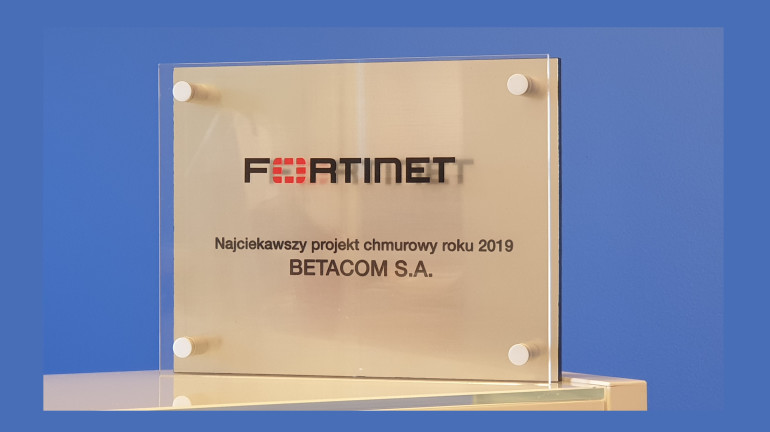 The public cloud security award emphasizes Betacom's competencies and commitment but also means Betacom can serve as an example to other partners of how to use the potential behind Fortinet's portfolio in expanding business in the era of digital transformation.
Announced at the Fortinet Partner Sync 2020 conference held early this year, this is an award for a project which consists in ensuring secure VPN communications for a financial institution. The project was entirely implemented in the Google Cloud Platform public cloud.
The fact that the customer chose Betacom's solution testifies to its high quality and security features which can be safely adapted to each industry's needs.
What primarily makes our activity stand out in the market is the fact that in Poland, public cloud is used to a considerably lesser extent than, for instance, in other European Union or American countries. Hence, Betacom's projects are pioneering efforts in the local market while being innovative on a broader scale. This is what earned them recognition from Fortinet.
"Betacom exhibited openness to new challenges and to building new competencies. Fortinet also took account of Betacom's security project implemented in the public cloud model with the use of the Microsoft Azure public cloud. The fact that both projects were intended for the financial sector was of additional importance to Fortinet," the justification says.
Fortinet, the American supplier of end-to-end, fully integrated high-performance security solutions spanning over the entire IT infrastructure, perfectly understands that the ongoing digital transformation drives unprecedented growth in the use of private and public clouds. In that context, security continues to be among the main problems faced by business and technology leaders in their efforts towards a more complete use of public cloud. Hence, it is extremely important to make security an integral part of designing particular cloud solutions but also of a broader, strategic approach to dynamic multi-cloud infrastructures.
In its cloud projects implemented over the last few years, Betacom proposes secure solutions already at design stage. This is one of our keys to success in projects implemented with customers from the financial industry and beyond. The awards we receive acknowledge them and confirm that we embarked on the right path," Tomasz Głażewski, Director of the Hybrid IT Business Line at Betacom.
Share