Microsoft 365 – everything under control – take your security to the next level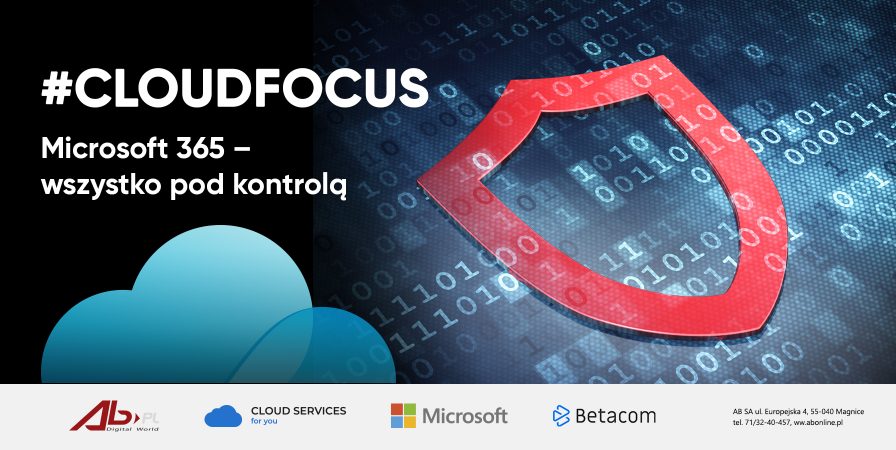 Security is becoming an even greater challenge for companies, regardless of size, region, or industry. According to Gartner 2020 Board of Directors Survey, cybersecurity is currently the second, right after compliance, source of risk for business. Half of respondents surveyed by PwC in the United Kingdom say that cybersecurity is now taken into account when making every business decision.
The world, society and economy are becoming more and more digital. In addition, increasingly sophisticated attacks are conducted on a larger scale, and the growing complexity of managing business risk makes it difficult to reach security goals.
Current priorities for managers responsible for security include:
protecting remote personnel,
managing vulnerabilities,
optimizing incident detection and response.
The scale of challenges is enormous, so companies look for solutions which will organize and strengthen security in an intelligent way – consolidate the applied technologies, streamline user experience and mitigate risk by using integrated protection.
Microsoft 365 is an end-to-end, SaaS solution with embedded security mechanisms covering the protection of:
identity,
data and applications,
end user devices.
By freeing managers responsible for security from some routine tasks, they enable them to focus on the key aspects of the cybersecurity strategy specific for a given organization.
Compared to the traditional approach, the SaaS approach:
means a lower number of incidents, which translates into lower risk of fines, damages to reputation, or losing business relations,
increases employee satisfaction and productivity.
In the case of independently built cybersecurity systems, which are expanded by adding subsequent technological solutions over time, without a proper team of experienced experts, it is very hard to avoid loopholes between particular security solutions.
Microsoft 365 solves this problem, because you gain:
comprehensive protection in the form of a suite, including tools necessary for employees to perform their day-to-day tasks,
automatic updates and modernization of the security system and seamless integration – Microsoft 365 security solutions are being consistently enriched by machine learning algorithms and AI which significantly accelerate incident detection and response.
Microsoft 365 provides an agile security system and empowers employees, which increases efficiency and supports innovation at the organization.
So if you want to:
protect your company,
streamline business processes,
increase productiveness and support a culture of collaboration,
please contact our consultant to receive more information and support in choosing the best solution.
ms@betacom.com.pl
Share