Staying secure with your head in the clouds — how to carry out digital transformation with Betacom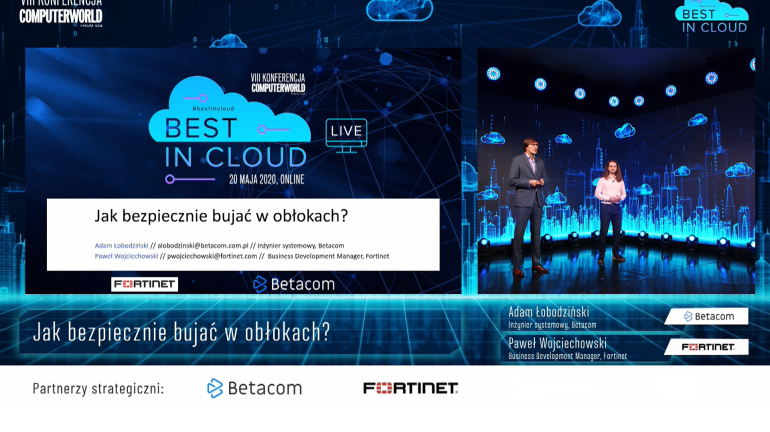 On May 22, together with Fortinet, we had the opportunity to be a Strategic Partner of the 8th Conference organized by IDG, the publisher of Computerworld. This is the 8th edition of the event dedicated to cloud solutions.
How to effectively use cloud technologies in business development, what prompts enterprises to invest in cloud solutions, how companies transform thanks to the cloud — these are the topics addressed during the conference, which this time was held online.
Keynotes included our own speech — "How to Stay Secure with Your Head in the Clouds" — by Adam Łobodziński from Betacom and Paweł Wojciechowski from Fortinet. It was a case study from two different implementations, in two different public clouds and with the use of Fortinet solutions.
It discussed the model of shared responsibility in the cloud, namely where the responsibility of the provider ends and that of the user begins.
What inspired us to appear together during this event is the fact that in January 2020 we received an award for one of the presented implementations for "The most interesting cloud project of 2019".
During the event we also had the opportunity to meet the winners of the following competitions:
The best cloud service implementation in the last 18 months — addressed to companies and public institutions which effectively use cloud computing.
The best products and providers of cloud solutions — addressed to providers of cloud solutions and services.
Congratulations to all the winners.
Thank you for the opportunity to participate in this interesting event.
We hope to meet you again next year.
You can watch our presentation in the video:
Solutions offered by Betacom which can be successfully adapted to the needs of every industry.
Feel free to contact us!
Share