The most innovative AI project of 2018: Betacom awarded by IBM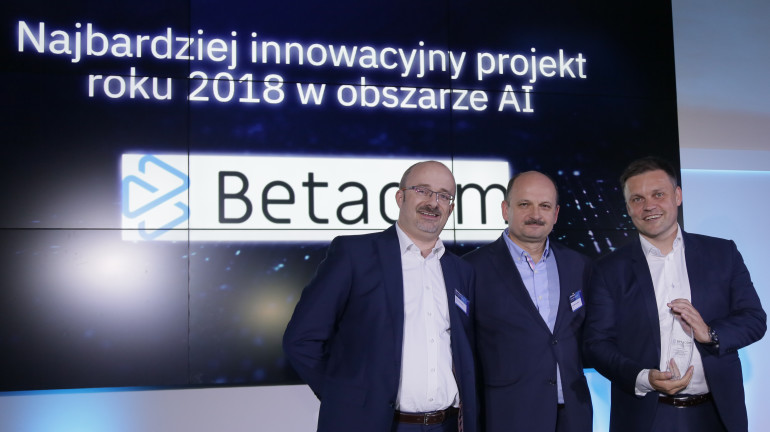 During this year's IBM Partner Ecosystem Summit ceremony (held in Warsaw on June 6, 2019), Bartłomiej Antczak, Betacom's CEO, received the statuette for the most innovative AI project of 2018.
When handing over the award, Jarosław Szymczuk, General Manager at IBM Poland and Baltics, emphasized the social value of our project: "For making artificial intelligence serve the humanity, which means helping autistic children together with IBM Watson."
As highlighted by Betacom's CEO, the award is the outcome of the company's strategy which includes AI-driven solutions as a key component.
In November 2018, we had an opportunity to present Bloom Chat Diagnosis in Barcelona, during the European finals of IBM Watson Build Dragon's Den (for more information: news link).
Bloom is a platform which supports therapists in diagnosing autism spectrum disorders. The automatic diagnosis is based on the results of the listening test system (audiograms). The platform digitizes the audiogram, analyzes its data, and indicates the most probable result which matches previously collected data. The result can either confirm or disprove the therapist's diagnosis, and indicate the type of therapy to be used.
The solution relies on the following IBM Watson services: IBM Watson Assistant (chatbot), IBM Watson Machine Learning (the diagnostic model) and IBM Watson Knowledge Studio (predictive models construction tool).
Special congratulations and thanks must go to the people without whom the project could not have been completed: Piotr Suchomski, Magdalena Raciniewska, Robert Sobczyk, Magda Pleskacz and Piotr Zdzierak.
Great support was also provided by Krzysztof Mierzejewski from BI Insight, professor Dominik Ślęzak from QED, and the IBM team: Piotr Beńke, Maria Horeglad and Marc Yvon.
We thank IBM for the award and congratulate other winners.
Share